2021
Our Ladies team who made the final of the Devon Ladies Interclub competition, A brilliant effort but disappointed they didn't retain the title
Derek Griffin receiving his award for long service to bowls coaching from  Rick Purnell of the English Bowls Coaching Society.
Gordon Short's 100 End Challenge – Click on an image to enlarge it
Here's a photo courtesy of Alan Biddulph to remind us, as if needed, what a great location our green occupies.
2019
Captain Eric welcomes Sussie Colley, MD of Westcountry Health, to the green
Thank you for coming along and getting the season underway
The experts watch as Susie Colley delivers the first wood of the season
We were delighted for Ella Crouch and Neve Dawson who were both selected for the Devon Belles, the Devon county team that played for the Amy Rose Bowl at Leamington Spa. The Belles did very well, only losing in a semi-final after an extra end to the eventual winners.
The winning team in the 2019 Devon County Interclub competition, well done girls.
2018
  The year was almost over and the clubhouse was ready for the Christmas Meal
   Keeping it in the family – Liz and Tim Lock won the 2018 2 wood ladies and men's competitions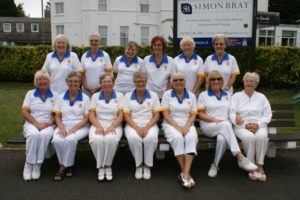 The all conquering SDLBL B Team, winners of all their league games in 2018
A passing bowler from Paignton BC couldn't help but be impressed by the green and Johns concentration whilst doing a great job, so he recorded the event and has shared it with us.
The SDLBL 4-3-2-1 Champions 2018
President and Secretary June gets the 2018 season underway as she puts down the first bowl of the season
We will remember the snow in Torquay in March 2018 for some time. Can you spot the jack?
A seagull's eye view of the green
2017 was a very good year for some of our members
Dave Vinnicombe and Val Davis were the 2017 County Mixed Pairs Champions
Harry Aspinall was the 2017 MDL Singles Champion
The all conquering SDLBL B Team who won all 14 matches on their way to promotion in 2016, then went on to be champions of division 5 in 2017 and so promoted for a second season running. Here is part of the 2017 squad at the SDLBL Presentation Evening.
Our ladies had further success in 2017 running out runners up in the SDLBL 4321 Competition. Seen here at the Presentation Evening.
Thanks to Kim Furness for crossing the road from the Belgrave Sands Hotel to deliver the first wood of the 2017 season
Stand at the corner of our L shaped lounge with your phone camera set to panorama and this is what you get. Here shown in winter set-up with the short mat carpets down.
President Alan Grost presents Grahame, a volunteer with the Devon Air Ambulance, with  a cheque for £500. The Air Ambulance was our charity for 2016.